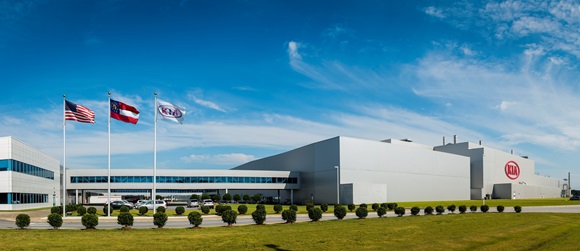 USA production of Kia Sorento reaches one million units
One millionth US-built Sorento manufactured on 1 May
West Point, GA production facility responsible for 15,000 US jobs
European-specification Sorento manufactured in Korea, record 2016 sales
Sold in Europe with Kia's unique 7-Year, 150,000 km warranty
Frankfurt, 8 May 2017 – Kia Motors is celebrating the production of one million units of its flagship SUV, the Kia Sorento, at its North American production facility. Kia Motors Manufacturing Georgia (KMMG) manufactured its one millionth Sorento on 1 May at the West Point manufacturing facility in Georgia, USA.

Representing an investment of more than $1.1 billion (€1 billion), KMMG started production of the Sorento at the end of 2009, followed by the Optima sedan in 2011. Together with on-site and local suppliers, KMMG is responsible for the creation of more than 15,000 jobs in West Point and the surrounding region. To date, KMMG has produced almost 2.4 million vehicles.

Harrison Shin, CEO of KMMG, commented: "The Sorento is a special product to our KMMG team as it was the first vehicle assembled at our Georgia plant. Our team is committed to building the best vehicles in the world right here in West Point, Georgia and we dedicate ourselves to world-class quality each day. I want to congratulate our team on another remarkable milestone."

The US-built Kia Sorento is sold across North America. Kia's flagship SUV is also manufactured in Hwasung, Korea, for Kia's European and global markets. Sales of the new European Sorento reached 15,769 units in 2016, the highest annual European sales ever recorded for the Sorento. In Europe, the Sorento is sold as standard with Kia's unique 7-year, 150,000 km warranty.